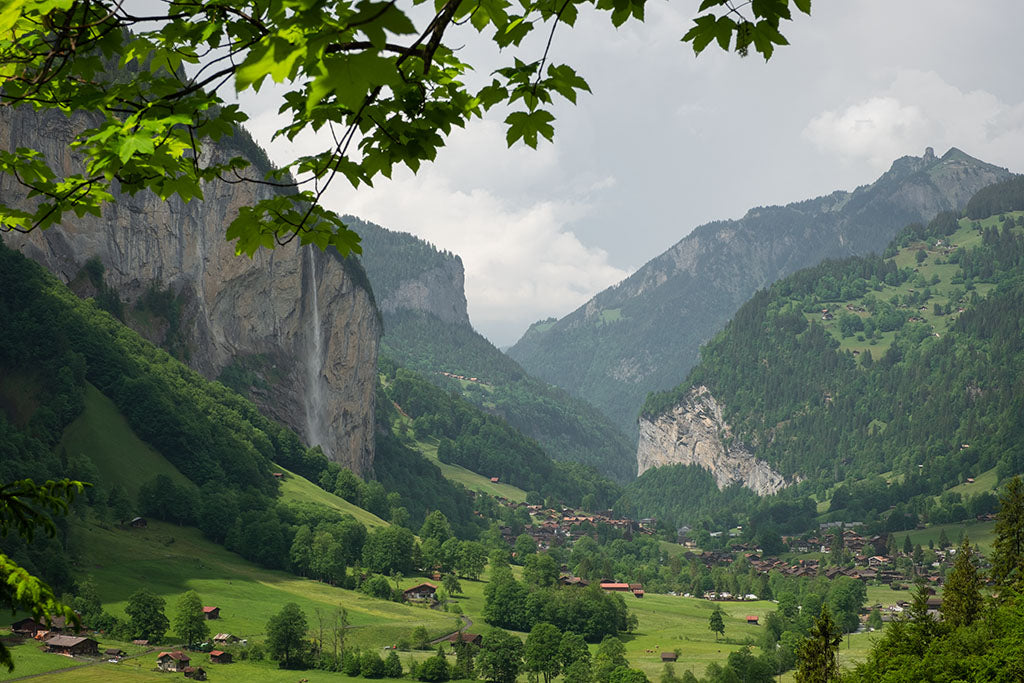 Switzerland has always been there in the back of my mind as a place to visit as far back as i can remember. I don't know when the interest in this beautiful country began. Maybe it was all the Toblerone adverts i remember as a kid! I am partial to a bit of chocolate and those that know me may say i'm more than partial! But, hey, life is always about chocolate…isn't it!?
Chocolate aside, Switzerland is one of the most stunning countries i have ever visited…so far. It has become a place that i could quite easily call home and i've only visited the country twice which says a lot. If you love the outdoors, fresh air, postcard scenery and emerald green lakes then you will love this country. So, when did my love affair begin with Switzerland?
The first attempt to visit Switzerland was met with an all mighty blow. I'd planned to take both my daughters in 2017. Everything was paid for, passports up to date, packed and ready to go. My eldest decided to have her ear pierced about a week before we flew to only have an infection 5 days before our flight. Obviously it was not her fault. The ear piercing place had a good reputation for cleanliness and hygiene..it was just one of those things..some people react, some don't. 
The infection got worse during the week to the extent she was admitted to hospital as sepsis started to kick in. Me and my younger daughter went to visit her and realised at that point she wasn't going to make the flight. We were torn with what to do. She was insistent on us both going and leaving her in the UK.
My youngest was so upset with both the prospect of her sister not being well enough to come but also whether i'd make the decision to go or not. She so wanted to go and to be honest so did I but, the whole point of the adventure was to go together. We cancelled the trip literally on the 11th hour and decided to postpone it to 2018.
2019 soon came round and so did the excitement at finally getting to visit Switzerland. My daughter was under strict instructions…no piercings! We arrived at Newcastle Airport and flew with British Airways for this trip. We connected to Geneva via Heathrow. Usually, I like to be on the ball with travel itineraries etc so that i can make the most of the time i'm somewhere but, also to make sure you plan where you are going, what you want to do, how to do it safely and more importantly how to get there. I thought a two hour connecting flight at Heathrow would be more than enough. I haven't been there for years and it has changed massively. Those two hours were literally taken up with us navigating to the gate for our flight to Geneva!
Geneva Airport - Easier than you think
Geneva was quite easy once we landed. This is where planning helped a lot. Arriving in a new country with no prior research is like taking your first driving lesson. You know what you want to do, you think you know how to do it but put the two together and you'll stall the car or bunny hop down the road finding the biting point of the clutch.
Super Efficient Rail System
The Switzerland train system is everything you've ever read about it. It's efficient and on time! If it say's it leaves at 13.10pm then it does! They don't wait for anyone but that's why the system is reliable. Maybe the UK could learn a lesson or two!? Our journey to Interlaken took approximately 3 hours. Some may feel this is one hell of a journey and, maybe it would be in the UK but, in Switzerland, with the mountain backdrops, waterfalls, the quaint villages you pass through along with the excitement that your holiday has officially started? Those three hours flew by!
Unbeknown to us at the time but we arrived in Switzerland during a heatwave they were having. We all want great weather when we go abroad…but 30+ degrees? Phew! It was hot the moment we stepped of the train.
Time to Explore Switzerland
Once settled in to our accommodation which, by the way, was a wooden lodge/cabin on a local campsite. Not the ideal setting for our warm arrival…but you can only plan so much? I decided to take them on a hike up Harder Kulm! If you have done this before then i'm sure you'll be reaching for your phone to report me for child cruelty! It was a tough hike, especially during this heatwave. But, credit to my girls, they did it! Nearly 3 and half hours later we were at the top admiring the views across Lake Thun and Lake Brienz. Following this start to our trip we decided to lighten the activities for the rest of the week. Therefore, I put my hiking adventure hat to one side to make sure that my daughters enjoyed the trip without that daily Harder Kulm feeling!
We had a fabulous week. spent time exploring Lauterbrunnen Valley. If you ever go to Switzerland then you have to visit Lauterbrunnen! It is surreal. In fact, the two photos above this section are from within the valley. The one to the left is when we were there and the one to the right is from the following year when i came back with my partner. We also popped over to Iseltwald on the local bus and took a walk along Lake Brienz to visit Giessbach Falls which are stunning. A visit to Bern and a swim in Lake Thun sealed the perfect week before we had to come home.
Aside of my love for photography i also take video footage with my Gopro. Although labelled as an action camera it is perfect capable as a small, handy to carry, video camera to capture memories with the right settings. With the photos along with the videos of the bells around the cows necks (it's definitely a Swiss thing but, as soon as you hear the bells you know you are in Switzerland!) it is one trip that we won't forget about anytime soon.
Switzerland Travel Guide – Must See Places to Visit
Having visited Switzerland twice now, with a third visit planned for 2022, i feel that i can offer you some guidance with confidence. If you like adventure, exploring new places and love scenery then read on. 
Harder Kulm
Without a doubt this is a tough hike. I'm fit and even i found the 3 hours uphill climb taking it's toll by the time i reached the top. You have two to three options of how you reach the top of Harder Kulm. The first one, and the most easiest, is to take the cable car to the top. You'll be up there in no time. There is a fee to pay and if you have the Interlaken visitor's pass you'll get a discount.
The second and third are the same. You hike up to the top. However, if you take the road to the top (via foot and perfectly safe) it winds around for most part meaning you cut out some of the steeper inclines. Both paths will meet each other nearer the top where you will then need to follow the wooded trail until you reach the top. Along the way up you do have a couple of viewpoints to take a breather and soak up the scenery. 
We walked from our campsite in Interlaken and followed the river to the start of the climb. It's relatively easy to follow. Everywhere is geared up for tourists and it is well sign-posted until you start the climb. After that you will come across occasional signage to guide you to the top. I would like to say it's straight forward enough but then i'm the type that is always aware of his surroundings and has a good sense for direction. My advice, download a google map to use offline (to save data) just to keep you on the right path.
Worth the Climb?
Once you reached the top you are greeted with some of the best views you will ever see in Switzerland. If you click on the video to your left you will see the reward for all your hard work…or easy effort if you took the cable car! Depending on whether you have a head for heights then why not walk all the way out on the see-through platform!
Whilst you are there enjoying the views why not grab a coffee or a beer and soak it up for a bit longer before you make your way back down. If it's a nice clear day you will see  Jungfrau in the distance along Lauterbrunnen Valley. Look to the right of the platform and you may also see a bunch of paragliders floating around in the sky!
Or, click on the Google Maps to the right and to select your location.
The link above takes you to the Harderbahn. From here, you can choose to hike up to Harder Kulm. Depending on your level of fitness you will need approximately 3-4 hours. Alternatively, jump on the funicular and be up to the top within 20 minutes.
Of all the places i've visited so far in Switzerland, Lauterbrunnen Valley by far is my favourite. A valley filled with waterfalls everywhere and a train journey to die for. Although there are many more journeys to die for which i'll come on to later. 
Feel free to check out the video to your right. This was taken from the window on the way to the valley. The train journey itself is a short one from Interlaken with it only taking about 20 minutes. Lauterbrunnen train station itself is at the start of the valley so you are perfectly set-up for a nice stroll through the valley taking in the wonders along the way.
The first waterfall you come to on the right is called Staubbach Falls. You can actually walk up to a viewing platform near the bottom part of the waterfall. Both visits to Switzerland so far have not yielded much rain to make this waterfall look as dramatic as it does nearer winter but stunning nonetheless.
Coffee, Cake & Stunning Views
Lauterbrunnen Valley is a easy day out if you stroll along the bottom. Very well signposted. It's flat and the paths are quite wide so easily accessible for the disabled or those with the young one's in tow. You can create a looped walk by staying to the right on the way through the valley and coming back on the other side of the river. At some point you will need to cross back over nearer the end to get back to the train station. 
TIP: I'd recommend walking all the way to the end of the valley to a cafe in Stechelberg. It's roughly a 1.5hr slow walk from the station so worth the visit for some traditional cakes! there is also a bus stop there so if you don't fancy the walk back you could always hop onto the bus.
If you decide to do the loop back via the other side of the river then you will come across an attraction called Trummelbach Falls. A series of ten glacier-fed waterfalls inside the mountain made accessible by a tunnel-funicular with stairs and illumination. We took the funicular to highest floor and walked up another one or two i think until we were at the top. Then we just slowly walked back down to the bottom admiring each waterfall along the way.
This video to the left will give you a rough idea what to expect and, the level of noise! It is immense. The roaring sound of the water gushing through the rocks is hard to describe. For some, this may be enough to put you off going inside. Predominately a dark and wet dimly lit tunnel. Don't get me wrong, it is safe and there is plenty of room to move around people. But, i know some people are not a lover of enclosed spaces which this feels in part at the various levels.
There are a couple of paths outside where you can see a couple of the waterfalls so it is still worth the small fee on entry. Plus, from these paths you get to see these views below. It's a great viewpoint to capture the beauty of the valley regardless of the weather.
Fancy that slice of cake?
Click the Google Maps to your right to plan your visit to Stechelberg village. The map is of Lauterbrunnen Valley so feel free to use it to plan your journey to the stunning valley.
There is a restaurant at the end of the path of the valley that serves up the finest food. It takes approximately an hour and a half to get there from the train station. This is at a relaxed pace as I'm sure you will be stopping at every corner.
Oeschinensee and it's Alpine Lake
Canada is on my to-do list and, even though i've never been, the moment you enter Oeschinensee it instantly reminds you of what the Rockies might look like. From the moment you step of the train to the moment you approach Oeschinen Lake at the top it is simply that stunning!
There are two ways or maybe three up to the lake. You can take the cable car which has a seasonal timetable so you'd need to check it was operating at the time you go. Second is to walk up. There are a couple of paths up to the top. It is roughly 4km to the lake from the station in Kandersteg and at an elevation of 1,578m so it is incline all the way to the top! However, you can stop at various stages and soak up the views along the way.
The third route is by car. A road runs parallel to the path that takes you all the way up to the restaurant by the lake. I'm not sure if this is for just the staff or for the general public. 
Once you've reached the top you are greeted with what feels like a secluded lake all to yourself off the beaten path. Sadly, it's not, and depending on what time of the year you come it could be quite busy. However, the area is big enough to accommodate all and there are various walks around the lake. We headed over to the other side of the lake following the path beside the lake. These photos below are a couple from this particular route. The one to the bottom left is me standing on that big boulder to create a sense of scale. Mountain-scapes galore!
Top right photo is one of the many waterfalls along this path. My partner and I were here May 2019 and as you can see the last of the winter snow was started to fade away. So much so that we witnessed an avalanche! Now just writing that word makes it sound more dramatic than it actually was but, an avalanche is an avalanche? We were stood admiring the scenery when we heard the rumble but couldn't quite see it straight away. Eventually caught it on camera to witness the moment but by that time it had slowed quite a bit and turned into a snow shower. 
This is one place we'll be coming back to in 2022 all being well!
How to get to Oeschinensee
You can travel to Oeschinensee via train or by car. The above Google Maps highlights the train route from Interlaken.
For an up to date train route CLICK HERE.
Once you have reached Kandersteg train station then CLICK HERE for information on the funicular tickets.
If you fancy a nice hike to Oeschinensee Lake then follow the above route.
The route above is car friendly and will only take about 10 minutes. There is a restaurant at the top where you can park.
If you fancy walking up to the top whilst admiring the scenery then CLICK HERE. This is a google map walking link.
Zermatt - Toblerone Country
Actually it's more renowned for skiing, climbing and hiking! But, i  like chocolate…a lot…so to me when i see pictures of Zermatt aside of the beauty i think about those Toblerone's!
Remember early on when i mentioned train journey's to die for? Well this is another one of those that you just have to do. The video clip to the right is a taste of the actual journey. 
The journey itself from Interlaken is up to 3 hours depending on which route you take. They have a quicker route but it misses some of the scenery which might be fine if you live here and it's your commute but, for a visitor like myself, it's all about the journey and not necessarily the destination!
Zermatt is in the southern part of Switzerland but don"t let this put you off. Yes you will have to get up early to get the train (assuming you are staying in Interlaken) but the journey and adventure is definitely worth it…even if it takes a couple of caffeine hits to get you going in the morning!
Once you reach the station, like all the other places we've visited so far in Switzerland, you are pretty much in the heart of the town to begin your hike in whatever direction takes your fancy. We headed along one of the traditional 5 lakes walk. Due to time, we could only make it comfortably to Lake Leisee which is one of the three lakes that the Matterhorn is reflected in. The other two are Grindjisee and Stellisee.
It took us about 2 and a half hours to get to this beautiful spot where we stopped for a bit of lunch. I'm sure you'll agree…what a view!
I'm always drawn to reflections and one of the photos i'd hoped to get was the reflection of the Matterhorn at Lake Stellisee. It was in reach, if we walked at a faster pace, but we wanted to enjoy the walk and not feel like i was rushing to take the picture and miss the rest. The cable car hadn't opened when we came in May so rest assured if you visit during peak season you will reach all 5 lakes comfortably within the day before returning back to your base. We were pretty much on our own here for a good couple of hours before we made our way back down to the station. On the way back they were setting of charges to 'force' small avalanches. Couldn't really see anything but the 'booms' within the valley were deafening! 
Depending on where you are based travelling in to Zermatt will cut the available time you have to spend there, assuming you plan to return in the same day. I think the next time we visit we'd probably stay over night to squeeze in another hike in this beautiful part of the country.
For those that don't want to hike up to the lakes there is a cable car that will take you up to Sunnegga station and Lake Leisee is close by.
The main street of Zermatt, Bahnhofstrasse, is lined with boutique shops, hotels and restaurants.  It also has a very lively apres-ski scene during the season.
How to get to Zermatt
Staying in Interlaken will hopefully highlight how central you are to visit most places.
The above Google Maps image shows you the train route. You can also drive to Zermatt although the parking is quite limited.
For an up to date Switzerland train timetable then CLICK HERE.
For Zermatt train station and Lake Leisee.
CLICK HERE for our walking route from the station up to Lake Leisee. A stunning walk with breath taking views.
If you fancy the quick way up to Lake Leisee then book your Sunnegga tickets HERE.
The Summit that dominates Lauterbrunnen Valley - Jungfrau
The Jungfrau is one of the main summits of the Bernese Alps standing at 4,158 metres. To visit this majestic backdrop of ice, snow with breath taking views then you'll need to hop onto the Jungfrau Railway or the newly promoted Eiger Express Gondola.
We traveled the very popular route from Interlaken OST to Grindelwald, Kleine Scheidegg through the north face of the Eiger to Europe's highest railway station. On the last part of the journey the train stops at a couple of intervals to allow the acclimatisation to the outside air. Don't forget, you are working your way up to 3454m above sea level. For some, this can make them feel a little queezy. To be honest, we didn't really notice it as much once we were outside at the top but, going up on the train i couldn't decide whether i felt anything or whether it was my mind playing tricks. Either way, when we walked out on to the platform outside it was surreal. Can fresh air really smell…fresh? All i will say is it felt great. To breath in the cold brisk air and experience the views such as these pictures below was an experience we will never forget.
The Swiss tourism call it 'magical' with 'breathtaking nature'. We couldn't agree more. We were lucky enough to have about an hour or two up there with pretty much clear skies everywhere before the clouds started to roll in. That alone was quite a sight as we were already above clouds! As you can see in the above photos. I believe in the later months, probably during peak season, you can actually hike up to the hut you can see in the photo to the right.
The main photo above suited a black and white composure and as you can see the clouds are rolling in quickly. Within 10 minutes of this photo being taken you couldn't see a thing. Which of course meant one thing…time to visit the Lindt shop!
I believe there are many more places just as stunning to visit. From an adventure and photography point of view i'm looking forward to capturing the beauty of Switzerland on our next visit in May 2022. I hope to share many more captures displaying the county at it's finest.
To check opening times, weather and travel updates CLICK HERE. This will take you directly to the official Jungfrau website. It will guide you through what tickets you need and what is on offer.
CLICK HERE for the SBB timetable. You can buy your tickets direct for Jungfrau from Interlaken OST. 
You may also be entitled to some discount if you are a holder of a rail pass.
CLICK HERE for Interrail Passes.
Your Swiss Rail Pass can be purchase HERE.
Switzerland Collection
If you would like to see more images from Switzerland then head over to my collection here.
---