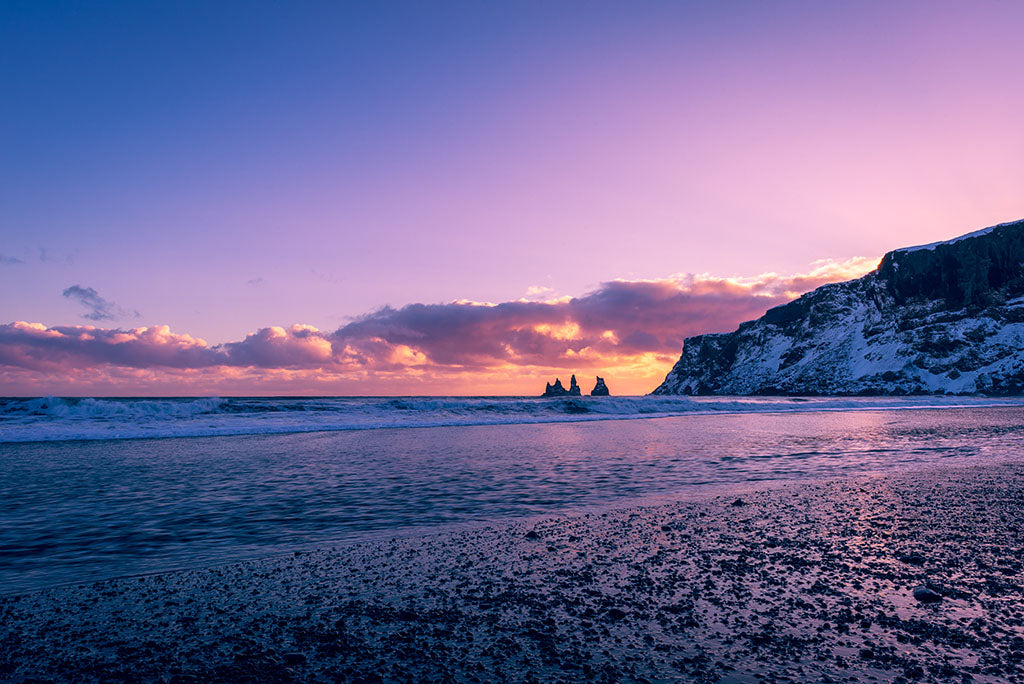 Helpful Guide for the South Coast of Iceland
If you want a quick look at my recommended places to visit then scroll down 'Must See Places'.
The Land of Fire and Ice
Iceland, a country on many people's to-do list, has also been a destination for many movies and tv series. My interest started back as far as 2002 with the film Oblivion. I remember watching it thinking where are they? I thought it was some futuristic set piece. But, it turned out to be filmed mostly in Iceland.
Since then other movies has used this country for its dramatic backdrop scenery. Movies such as Prometheus, Interstellar and Game of Thrones to name a few.
However, it took me until 2016 to finally visit this beautiful country.
The Birthday Surprise!
A 40th birthday present for my partner brought us to this country. I planned and prepared a 'mood' board that she opened up a little earlier than her birthday. I drew the map of Iceland and 'pinned' various places on the board that we planned to visit. It was a 6 day trip so we predominately visited only the South Coast of Iceland. My dream is to come back in the future and do a two-week road trip around the whole of the island.
So, what had i planned? Well we went in March as both our birthdays are early March. Knowing that the Northern Lights are usually present we hoped to see if we could spot the sky alight with colour. Aside of the Northern Lights I planned a visit to a so called 'secret pool', some waterfalls and geysers and an ice cave tour.
We covered quite a few waterfalls including Skogafoss, Seljalandsfoss and Gullfoss. I hoped to see more but March is still pretty much still in the thick of winter. Snow covered landscapes means some frozen waterfalls! 
One thing I really wanted to do in Iceland was to visit an ice cave. You see all these stunning photos of the gorgeous blue ice colour which fascinated me. You can only visit these during the winter time for obvious reasons and you must do a organised tour. I would never recommend doing this on your own unless you live there and know the terrain. Otherwise, you'll be on the local news for the wrong reasons!
The journey to the ice cave starts in these huge 4×4 wagons with tyres the size of humans! Fine on the road but as soon as you are off-road you are bouncing around all over the place – in a fun way! Once you are out of the wagon you are given your helmets and spikes for your shoes. You are then led down a precariously looking hole that's been cut out into the side of a snow drift!
You will see the photos below in the description of one of the must-sees. Once you're inside it is very surreal. The blue colour is as blue as you see in the many photos. 
I was fairly new to long exposure photography at the time and had forgotten to bring my tripod on this trip. My photos turned out horribly shaky which is a shame. I tried propping it up on the snow but it just didn't work well enough. I will certainly be back here again in the future  – with the tripod!
Don't Forget Your Tripod!
One time i didn't forget the tripod was the evening we witnessed the Northern Lights. It was almost by luck. My partner looked out of the window this particular evening  and noticed 'wisps' of clouds in the sky. We had not seen anything like this before so assumed it must be the lights. One thing i will say is they were 'colourless', not the bright greens you see in photos or on videos. Once i'd taken a couple of photos (with my tripod!) the colours popped!
I'm unsure if the Northern Light colours you see or are only visible once you've taken the picture/video? The big photo below is full of colour. But, they were white 'wisps' of clouds to the naked eye at that time. So if you ever see something that sounds like this then you are probably witnessing the Northern Lights. 
The evening we witnessed the lights was also the evening of my birthday!
We came back to Iceland in June 2018. This time with my two daughters as a joint 18th and 21st birthday present.
There is a saying about the weather in Iceland. It goes like this- if you don't like it then wait for five minutes. Well it's definitely true as we had all seasons in one week during our time in Iceland! Our first night felt like we were on the set of the Wizard of Oz! The wind howling outside was indescribable. I thought at one point our cabin was going to whipped up in the air.
We had a good mix though. We actually got down to our t-shirts on one day near the glacier at Skaftafell National Park. Then another day in waterproofs alongside Oxarafoss Waterfall. You really do need to plan for all weathers. One good point to this time of the year is the waterfalls! Boy, are they flowing widely now. 
During this time of year we managed to visit a lot more places with the 4×4 we hired. Obviously without the snow more tracks were opened and we spent time in and around Dryholey Beach, Fjaorargljufur Canyon, Gullfoss, Kerio Crater, Rekjavik, Strokkur, Svartifoss and Urrioafoss Waterfalls. 
The Midnight Sun
Does the sun really not set? Well, it does a little but because of where it sits on the equator it just 'dips' but never really drops below the equator to create the 'night' that we are all so used to.
The cabin we booked had black-out blinds so you still went to sleep fine. However, it is very surreal to be sitting in the hot tub outside on the decking at 1am in daylight!
Must See Places to Visit in Iceland
Having visited Iceland twice now, with a third visit planned at some point in the future, i feel that i can offer you some guidance with confidence with the places that we've visited. If you like adventure, exploring new places and lovely scenery then read on. 
The Secret Pool
Whenever i visit a new place aside of the seeing the usual 'sights' i always like to find a 'hidden gem' and this pool is one of them. Although not a 'secret pool' as most people know about it now. However, as it's a bit of a walk from a 'parking area' it does put some people off. Plus, there are no signs as such so it's not advertised either. Please bear in mind though that we visited in 2016 and things may have changed since.
 That being said, this is how we remember it. The pool itself is called 'Seljavallalaug Pool' and is the oldest swimming pool in Iceland. It is found at the foot of a mountain in South Iceland and is fed naturally by hot water. Since writing this article i have discovered that there is now a car park at Seljavallalaug thus creating a shorter walk of approximately 20 mins each way to reach the pool. It's relatively easy to follow if there are no tourists around – just follow the valley into the mountains from the parking lot…hop over a river or two and you're there.
Once you are there you may be disappointed by the changing room facilities. Years ago before the tourist boom these were well looked after by the locals. These days due to the lack of respect by many tourists have been unkempt for some time. There is only one room so be prepared to get naked in front of strangers or if you are lucky none if it's quiet!
Worth the Visit?
When we came in 2016 Iceland was in the early stages of it's tourist boom. Plus during March it was cold, wet and thus very quiet. We were pretty much on our own until the last half hour or so. 
It is relatively safe to leave your clothes in the room but maybe don't bring your valuables. We witnessed an odd couple. One explored the pool for a brief moment while the other hovered in the changing room. Then suddenly they both left. Seemed really weird behavior and me being skeptical thought they were up to no good. When we got changed i remember ranting at my partner that my hat and gloves had been stolen to later find out they were in my hood!
All in all a great experience. Bathing in warm water surrounded by snow covered mountains…what more could you ask for?
How to get to the Secret Pool
Seljavallalaug is an outdoor swimming pool in South Iceland, roughly ten kilometers (six miles) east of Ásólfsskáli. To reach Seljavallalaug from Reykjavík, drive east along the ring road that encircles the country for just over an hour and a half, before turning onto Route 242 for the car park. The pool is situated a short hike north.
The Google maps to the right has been set to the point where you turn on to Route 242.
CLICK HERE for the full Google Map image and GPS co-ordinates.
Skogafoss Waterfall (which is literally a stone's throw away from the Seljavallalaug Pool) is one of the most impressive waterfalls along the South Coast of Iceland. A height of approximately 200ft with 438 steps from the bottom all the way to the top of the viewing platform. If you've never felt your legs burn before then climb these steps. More than double the height to get up to than Whitby Abbey.
The power from this waterfall is immense along with the spray. Get too close and you'll definitely get wet! Check the video out below. That's the closest i managed without getting too wet but you can see as soon as the camera pans up the droplets hit the screen.
Skogafoss is one of the biggest in Iceland which may feel insignificant when Iceland has over 10,000 waterfalls! It is roughly about 100 miles from Iceland's Capital – Reykjavik. 
From a Photography Point of View
Skogafoss is a stunning waterfall to capture. With many interesting compositions and angles to try you can create some really creative shots. If you are lucky enough, you can capture a rainbow or two in front of Skogafoss if the sun hits it right. 
TIP: As with any popular tourist 'attraction' you'll want to be there early to avoid the crowds. The photo above was around 8am with the couple in the distance. The fact they are there helped me create the commonly taken shot but with some perspective on the size of this waterfall!
Because of the vast amount of spray you can't get that close without your lens getting covered in droplets. So, maybe think about different angles. If i have time before i visit somewhere i try to research the 'main' photo angles that people choose then, try to find a different way of capturing the location. I'll always take the 'tourist' shot but this is mainly for our personal album but, if i'm going to sell a print then i hope to find something unique – if possible.
The Power of Skogafoss
As mentioned on a previous post, i like to video as well. This is purely to add video to our travels alongside my photography. I will then create a travel video combining video with photos to music. I'm not a videographer and my edits are far from professional but, i always like to capture the feeling/experience of our trip.
I think i had about 10 takes to get this video. Each time i edged closer to the waterfall trying to workout how close i could get without getting too wet. It is something to create the power of a waterfall in a photograph but, another to be so close to it and hear the power echo around you!
How to get to Skogafoss Waterfall
Skogafoss is relatively easy to find. It's roughly a 2 hour drive from the Capital Reykjavik and literally around the corner from the Seljavallalaug Pool. In fact, you can see Skogafoss from the ring road. It is that huge!
Pull in to the car park which is clearly sign posted and you are there. I would definitely recommend climbing up the steps to the viewing platform at the top health wise permitting. Aside of a different view of Skogafoss you also have a nice panoramic view of the South Coast.
CLICK HERE for the full Google Maps image and GPS co-ordinates.
Vik with the Northern Lights over the Black Sand Beach
Vik, South Coast of Iceland with many natural wonders and quaint villages to explore. I captured the photo above the evening of my birthday. As mentioned earlier, the colours you see in the photo were not the colours i noticed when taking this photo. They were faint white 'wisps' which we assumed must be the Northern Lights. Being fairly new to long exposure photography at this point I created some unintentional star trails. My exposure ended up longer than planned. But, i still managed to capture the lights and witness the magic right before my eyes.
The sea stacks in the picture are found just off the south coast and what you can't see in the photo but can in the video below is, the black sand beach. 
The black sand beach in Vik, and in other areas along the coast, have their colour due to the volcanic explosions the island has experienced over the years. Once the lava cools it forms solid rock which over time gets worn into fine grains so, not sand per se, but small enough to look like sand.
If you drive round to the other side of Vik you will get to visit Reynisfjara beach and the famous basalt columns and if you are lucky some puffins!
Vik is very pretty with it's quaint village, church up on the hill directly opposite the beach with plenty of lupines all around you. From a photogoraphy point of view you have plenty of macro work with the lupines or grab your wide angle and create some interesting shots up near the church with the sea stacks in the distance. Or, head down to the beach with your tripod and slow the water down to create some interesting seascapes. 
Regardless of where you live in the world there are not many places where you get to visit a beach with black sand.
I live in the UK, where we have some perfect golden sand beaches. I've walked along white sanded beaches in Greece but never a black sanded beach. If you visit Iceland then visiting Vik is a must. Plus, if you're working your way along the south coast to visit Skogafoss for example then you're pretty much within a stone's throw…well about 30mins in the car. 
Vik sits in the shadow of Myrdalsjokull glacier which covers the Katla volcano. Thankfully the last eruption was back in 1918 but the locals still practice periodic drills on what to do on the first sign of an eruption.
How to get to the town of Vik
A lot of the main attractions on the South Coast of Iceland are indeed just of the main ring road. You actually drive through the town if you are heading for one of the glaciers. 
It's also a good town for a short break if you have driven straight from the airport in Reykjavik. A nice hotel and local cafe to freshen yourself up for the rest of your journey
CLICK HERE for the full Google Maps image and GPS co-ordinates.
Iceland's Waterfalls, Glaciers, Canyons and Snow
It's probably fair to assume that most people who visit Iceland come to see it's famous landscapes. Their landscapes are littered with stunning waterfalls, geysers, glaciers and canyons.
We visited Svartifoss Waterfall. Composition is quite tricky as just to the right of the photo is the viewing platform so you can't actually get that close. I balanced precariously on a boulder in the water, straddled across a couple of rocks to get low enough and in line to capture the waterfall. I really loved this waterfall. Not as much for the waterfall but more the basalt columns. The black and white photo of the basalt columns further down in this article is from this waterfall.
We were staying at Kirkjubaejarklaustur for a couple of nights so only an hour away from this great waterfall.
Iceland in Black And White
Many people visit Iceland for it's vast colorful landscapes and vistas. Wherever you park up there is always a stunning view to be had. After taking many pictures myself I soon realised the varied contrast between these landscapes, especially in the winter months, that just lend themselves to a black and white image.
Here are just a few of my monochrome photos that i feel worked with images from Iceland.
Ice Cave Tour in Skaftafell National Park
One thing i'd highly recommend anyone to do if they visit Iceland and that is…to go on an ice cave tour. You may have seen many photos from the inside's of these caves with the bright blue ice colours and the wonderful textures. Well i can tell you this…the colours you see in these photos ARE the colours you see inside these caves. They are surreal, vivid, very blue and very textured which makes for great photography.
If that wasn't enough to tempt you to visit then the journey to get there certainly will! Driving in a souped up 4×4 bouncing along the snow is an experience in itself. Imagine a rollercoaster but on snow!
Now, i don't want that to put people off. You won't be throwing up or anything…it's just the whole experience…it feels like you're crossing the arctic (not that i ever have) with nothing but snow capped mountains around you.
There are numerous cave tours and numerous caves for you to visit and i would only recommend you visit with a tour guide. You might be thinking it's just a tourist money making pit and, whilst they are probably making a good living from it, it is more about your safety. These guides 'know' the caves. They visit them quite frequently to ensure they are safe for you and for themselves.
Once you've had your fill of the journey getting there in one of the beasts below (1st picture) you will be kitted out with your helmets, snow spikes etc. You will then be taken over to something that looks like the second photo. Whilst it looks precarious with a 'plank' of wood looking like it's holding up the entrance…it is very safe. As you enter one by one you will be presented with something that you'd expect to see on an Indiana Jones movie –  should he ever visit Iceland!
My only disappointment during this visit – forgotten my tripod. I'd hoped to capture the beauty of the internal ice cave system but the unexpected rush to make it in time i'd forgotten to pick it up! 
Who to choose & How to get there
There are so many tour companies that offer this type of excursion. I usually annoy my partner with the level of detail and research I go into when going to new locations. I want to be safe and I want to make sure who's ever with me is safe. So, all I can offer you is the company I ended up choosing and trust me when I say that I read ALL the reviews!
CLICK HERE for the link to the company we used and that I would highly recommend. And,
CLICK HERE for the directions to get to the meeting point. Again, this is using Reykjavik as a starting point. Although due to the long drive I'd recommend staying somewhere close the night before your adventure! 
Reykjavik – Capital of Iceland
Our trip to get here second time round brought us up from Luton airport. We live in the North East so had traveled the day before to stay over and catch the 7am flight. This meant very little sleep in order to get up at 4am to be at the airport at 5am before our flight. One advantage – it allowed us to see Reykjavik albeit extremely tired!
The Harpa Concert Hall which was right next to the Sun Voyager structure is just simply stunning. Both are heavily photographed on the web but still very pretty in person.
On our Reykjavik visit, we went to see the iconic Perlan building, towering over the city from the top of a hill in the Öskjuhlíð area.
The hemispherical structure provides visitors with an unmatched, panoramic view of the capital area from its observation deck. 
The Glaciers and Ice Cave exhibition begins with a visit to an ice cave constructed inside one of the hot water tanks on which the Perlan dome sits. The museum urges visitors to use their senses during the tour; you can observe the ice and touch it while listening to the sounds and feeling the cold. After walking through the labyrinth of ice, guests are lead to the second floor. There, you will find an interactive wall showing the forces of the glaciers and the volcanic activity under you and multimedia displays with everything about glaciers. 
Following this we had time to grab a quick snack in the main town before we headed off on our 3hr journey along the South Coast to our rented property.
Like any holiday you should plan ahead where you want to stay as a base. From there you can plan your activities in and around that area with more ease. With Iceland, unless you stay in the roadside hotels, more often than not your property will be off the beaten path.
Our property on google maps looked like a suitable dirt track which appeared doable with our hire car. Unfortunately google maps doesn't really show you how uneven the terrain might be! Our road was bumpy as hell at only 5mph!
Therefore our base, albeit close to the ring road, would take some time to get to it because of this road. Our one hour trips to a scenic point would take us about 2. In hindsight, we could have got in touch with the host, but as there description didn't mention the road surface we took it for granted as being relatively normal. 
Just something to consider when you want to see as much as you can within a relatively short space of time. Our plan is to go back again at sometime and hire a camper style van and spend two weeks touring the ring road. We haven't even touched the beauty of the North of the island.
---